Description
I love that image of the terrified little girl (below right close-up)... plus this sheet has some good text phrases to include in a collage, like "What big eyes you have!" and "Wicked".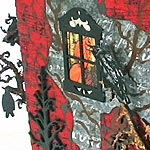 Little Red Riding Hood House by Design Team Member Laura Carson. See the Supply List.
For more information see the blog.
What Big Eyes You Have Collage Sheet little red riding hood wolf 140804rrh redriding searchGrimm 140817rsr 140824lrh GRM