Description
A sheet to make an adorable (tiny!) songbook! Beside the photos of Jeanne's finished sample, here's a link to downloadable instructions (so you can see what's involved... and so you'll have the instructions once you have the sheet in hand).
The songs in the songbook include some amazing titles, like "Snookey Ookums," "Hitchy Koo," and "Oh! I Wish My Dad had been a Democrat."
Exclusive to Alpha Stamps by Jeanne Draachreider.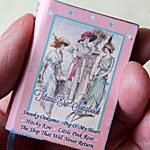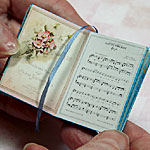 Teeny, tiny Titanic Songbook, by Design Team Member Jeanne Draachreider.
For more information see the blog.
Titanic Era Songbook Collage Sheet sheet music ship flowers bees 140410jsa 160710JA ARTN