Description
I love these! Tiny little chipboard shadowboxes with a wrap-around cover like a matchbox. As you can see in one of the photos, they ship flat (but are precut and scored so easy to fold and glue together).
Ok... 3" wide isn't very "tiny" for some of you. But it is smaller than the similarly shaped Small Paper Theatre Boxes.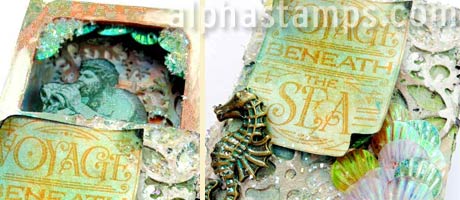 Under the Sea Matchbox by Nichola Battilana. See the Supply List.
More info is in the blog.
Tiny Matchbox Theatre - 3 Inch chipboard 160702NB kindaDS 180610TC GND   GND