Description
These diorama boxes are laser cut from sturdy chipboard. The room itself is an ample 10" tall x 10" wide (and with the extra 2" above the "room", that facade will give you space to add signage or (like in Shannon's cute artwork below) an awning.
Assembly is required, but it's super easy with a slat and groove system. You'll need to apply quality glue to keep everything in place.Beyond the 4" depth inside the "room" there's a 2-1/2" deep apron, in case you'd like to add a table for a sidewalk cafe.
Plus this design includes a nice, big window, and a door with a window and a transom above it (you could also just paper over the transom if you don't want a window above the door).
This item is in Dollhouse 1:12 Scale.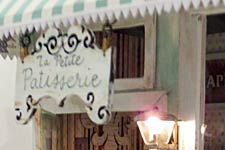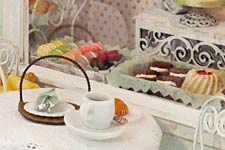 La Petite Patisserie by Shannon Cooper; See the Supply List.
More info is in the blog.
strfrnt gryGD 151029SLP   GND