Description
Lots of vintage labels and posters here! There are tiny labels are sized for 1:12 scale bottles. Plus some vintage travel posters perfect for a little tropical scene.
And some bottles: useful for putting in the back of a bar or bookcase to mix with 3D bottles to make the bar look more full.
NOTE: since these are miniature, the printed version of this sheet is on a lighter weight 24 lb laser stock (the normal 80 lb stock is just too heavy at this scale!)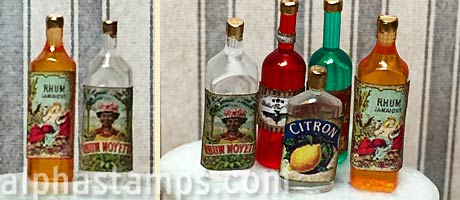 Sample bottles by Teri Calia using labels from this collage sheet and the Vintage Beer & Soda Labels Collage Sheet; see this list of bottles that these tiny labels fit.
211101CL 160728BT 190704KB 200416KB