Description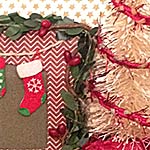 Artwork by Miz Bella (Kim Ayers). See the blog for more info.
Set of 8 white sisal trees (natural color with a bit of white flocking for snow). Leave them natural or mist with alcohol ink to dye them to your liking.
3 sizes (the largest is approx 4" tall, including the wooden stand).
Design Team Member Kristin Batsel made a Holly Jolly Christmas House (see the wide photo below). More info in the blog and/or see the supply list.

131121BFPGA 171112KB 131129kcp 131130ld1 131130lcd5 131127kbsd 131130LCBGA 131201bls 201213RT 191103KB 181118KB 181104KB 131202tcb 141129tww 141130kbh 141204lct 141211jdh 151128NCB 151210RTI 141129mhh 151210RDR 160602TB 161030KB 161113BT 191205SC 161117BL 161201SC 161201RT 161204BL 161202RT 201203LM 201004SC 211111CL 161208BT 171008SC 191103KB 191129SC sisal bristle 211205LM