Description
A skinny size (not quite 1" wide). They make adorable little dresser drawers... see Laura Carson's artwork below.
Set of 12
UPDATE: these are no longer shipped in a 2-part kraft box but we've doubled the quantity!
See 2 of the additional photos for the size of a Mini Chipboard Gothic Fence with the kraft box these matchboxes were shipped in.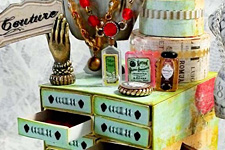 Boutique Exquisite by Laura Carson; See the Supply List.
More info in the blog.
Narrow Blank Matchboxes* 150802cemtkit 150801cgc 150801zsb 150815LBT 150815LSC 180315LC 150827SSA 150830RTL 150906LHBT 150906LGHB 150906LRTE 150920LZB 151001LGM 151127LTS 151213LCS 160915LC 170913LC kindaDS