Description
These cute mini crates are decorated with a vintage fruit or vegetable label. 1-3/8" x 1-1/4" x 1/2" tall.
Sold individually (sorry, but you can't pick fruit or vegetables).
This item is in Dollhouse 1:12 Scale.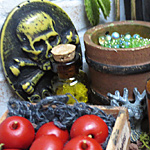 Witch's Cottage by Shannon Cooper; See the Supply List.
More info is in the blog.
Miniature Wooden Crates fruit vegetables garden label 150725swc 150903TPS 150903KFF 151022TWR kindaDS 190728NB