Description
Cute little dress forms. Approx 3" tall. Note: black only (ivory in photo is sold out).
Smaller than the Mini Dressform Kit. A good size for a tabletop display in a 1:12 scale boutique. The larger dress form in the Dress Shop Shape Set is just a bit taller than this 3D dress form.
Sold individually.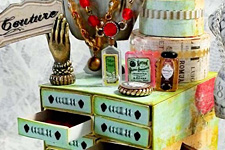 Boutique Exquisite by Laura Carson; See the Supply List.
More info in the blog.
sewing 180816LC mannequin 150815LSC 190620new 220526new