Description
Aw.. such a cute little crate. Ready to add your own label or just ink it a bit to appear aged.
Approx. 1-1/2" x 1-3/8" (by 1/2" tall).
Shown in a photo above with a Miniature Wooden Crate (smaller) for size comparison.
Sold individually.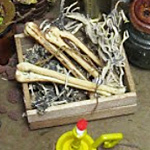 Witch's Cottage by Shannon Cooper; See the Supply List.
More info is in the blog.
220616new 210207new 150725swc 151022WCS 160313TFG 160417RMA 161204BL 161204BL 170511KB 180322SC