Description
A tiny little scale with a set of weights You can rearrange the weights and put them on the scales, but the scales don't actually work (they won't move up and down when weight is added to them... but they do swing).
This item is in Dollhouse 1:12 Scale.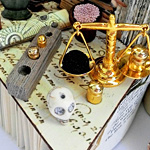 Alchemist's Workshop by Laura Carson; See the Supply List.
More info in the blog.
201011new 150729law 170518TC 180927LA