Description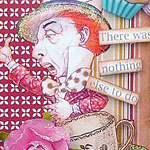 Artwork by Design Team Member Teri Calia.
See above for a larger photo.
More Tenniel images and text from the beginning of Alice in Wonderland that would be good as background texture. Also includes some fun faux postage stamps.
"Drink Me" artwork shown above by Guest Designer Caroline Ouzts-Hay.
Exclusive to Alpha Stamps by Artistic Narratives.
I Wonder Collage Sheet alice in wonderland teaswap DIGITAL 130602lc2 130613lc 140126tadg 140126tcwmm 160612CH AIWL