Description
The Macaronis
Fashionable young men, as part of their education, went on the Grand Tour. From Italy in the 1760s they introduced the word 'macaroni', which meant stylish, elegant. It soon came to be appropriated to an effeminate young man who wore a brightly colored, tight-fitting coat, a nosegay of flowers, a huge powdered wig, and a tiny Nivernois hat, named after the French ambassador in London.
Artwork shown above by Design Team Member Rhonda Secrist Thomas.
Exclusive to Alpha Stamps by Teri Calia.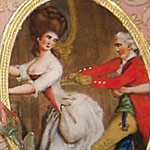 Artwork by Design Team Member Laura Carson (also used in her AccordionBook Tutorial).
How's My Hair? Collage Sheet DIGITAL 120122marienew 120122marieCSs 120126tutorial 121123YTbx 121123YTfn 140605jlth 150315LMW LTEC