Description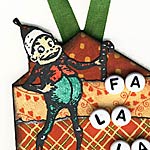 Artwork at left (and a larger photo above) by Design Team Member Amy Rozeboom.
9 adorable stamps for Winter holiday or Christmas projects. Packages, letters, a holiday gift list, ice skating (falling during ice skating)...
The Brownies were a very popular late-19th century series by Palmer Cox.
9" x 6" sheet of unmounted rubber.
Design Team Member Rhonda Thomas made A Treat To Make, And A Place For Treats (see the wide photo below). More info in the blog and/or see the supply list.
grimmetc xmasswap elves gnomes elf christmas ice skating skate gifts presents book candy cane 140724rtrb 141026bwn 141109bhs 150808rpl redrbr 190811new 191003new 191107RT