Description
I love this little room box! Perfect for a little shrine when you haven't much space on a shelf (or your wall) to display it.
As you can see in the photo above, this one is just 2" deep (there's a deeper related room box also shown in that photo and linked below: Half Scale Window Room Box).
5" wide (with a 1" apron at the base), 6" tall including the facade (about 4-3/4" tall inside the "room").
Ships flat. Cut from heavy chipboard.
This is in 1/2" scale (1:24).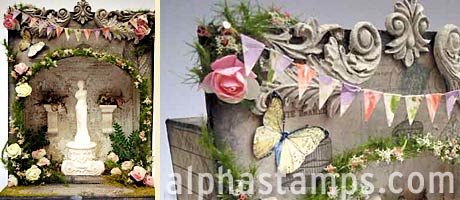 Venus' Grotto by Nichola Battilana. See the Supply List.
More info is in the blog.
1:24 1/2 inch 160609NB GND gryGD 190711new arches