Description
Creative Paperclay is a non-toxic modeling material that can be sculpted, molded or shaped, and air dries (no baking!) to a hard finish that can be carved, sanded or painted.
Be sure to keep any unused Paperclay in an air-tight bag for future use. If it should become a little dry as you're working with it, or in the bag, you can knead a few drops of water back into it.
Drying time: leave the molded/sculpted Paperclayobjects out to air dry for a day or so. If you're in a hurry, you mayput the objects into your oven at 250 degrees for 15 minutes oruntil dry.
4 oz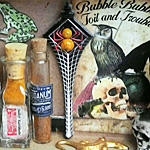 Apothecary Book by Laura Carson. See the Supply List.
For more information see the blog.
Creative Paperclay 121201COHpr 131301trslvr 131301trcppr 130203coh 130303lc 130808ntc 130905skt 131012tcc 140518lcb 140821jrrh 140904twp 141019lapb 150125AFG 150125LGB 150301KBT 150308CMT 150315LMW 150326KTP 170608LC 150507LSS 150524VMC 180830LC 150906LRTE 190728NB 151005NTC 151127LTS 160128NBPPV 160327LSG 160417RMA 160512NBM 160515LCS 190822RT 181011NB 160605LC 160609NB 160701BT 160721LC 160811LC 160821BT 160929TR 160926TC 161013NB 161117BL 161201RT 161204BL 170104SC 170120LC 190908LC 170223LC 170302TC 170727BL 180712LC kindaDS