Description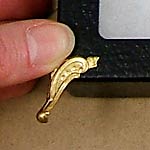 Set of lightweight, ornate, raw brass feet. Lead-free brass, made in the USA.
Shown with a Diorama Box (but will also fit any box at least 1-1/2" deep).
The feet can be glued on.
Set of 4.
Design Team Member Laura Carson made a Birdie Darling Altoids Tin Book (see the wide photo below). More info in the blog and/or see the supply list.
123012smhr 130321lhb 130324sts 140112lcottpGA 140706led 150628MM 150815LCO 160505LBD 170813LC 170824LC