Description
Too cute! The White Rabbit from Alice in Wonderland! Yes, that is a pocket watch he's holding. And in a suit jacket, shirt, vest and bow tie (and an umbrella under his arm).
Approx 1-3/8" tall.
Sold individually.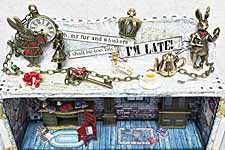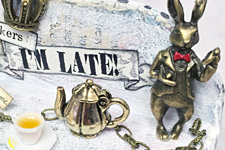 The White Rabbit's Hutch by Teri Calia. See the Supply List.
For more information see the blog.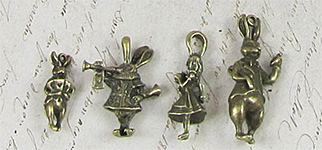 The line-up! I thought it would be useful to see the relative sizes of these 3D Alice in Wonderland charms. From left to right: Bronze 3D Rabbit with Cards, Bronze 3D Alice in Wonderland Herald Rabbit, 3D Bronze Alice in Wonderland Charm, Antique Bronze 3D Rabbit Charm.
Antique Bronze 3D Rabbit Charms* alice in wonderland white 15083NGC 150820WRH 210221KR