Description
This is a set of all 4 Winter colors. Colors included in this set are: Red Pepper, Clover Green, Pool and Wild Plum.
Use on glossy paper, dominoes, metal, shrink plastic, glass, and other slick surfaces. Made for non-porous surfaces (not uncoated paper nor photo paper).
Here's a demonstration of how to use them, by Tim Holtz: video tutorial.
Sample tag by Tim Holtz shown above; read the tutorial.
Artwork by Design Team Member Laura Carson using Red Pepper (also used in her Pretty Potions and Poisons Apothecary Event).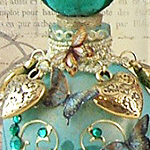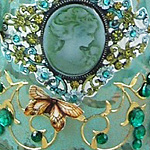 Valentine Frosted Bottle - Patina & Gold by Design Team Member Laura Carson using Clover; other components used in the artwork.
Learn more about this artwork in Laura's Decorative Techniques for Altering Bottles Tutorial.
Alcohol Inks - Red Pepper Cashmere Dame 121123YTbx 121123YTfn 120512LCfns 121212STfrfr 130601smr 132401bttl4 130217eb 130717lml christmas blue aqua clover green winter set pool denim 132401bttl3 140610nbvt 131301trcppr 140817lpw 161006LC 170226JC 170921RT kindaDS