Description
Use on glossy paper, dominoes, metal, shrink plastic, glass, and other slick surfaces. Made for non-porous surfaces (not uncoated paper nor photo paper).
Here's a demonstration of how to use them, by Tim Holtz: video tutorial.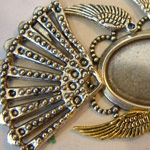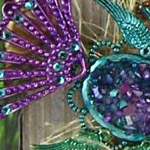 Before-and-after metal fish by Design Team Member Laura Carson (also used in her Mermaid Castle Tutorial).
Alcohol Inks - Purple Twilight mermaidcastle 120512LCfns 130717lml 130804rfp 130818drd 150621LM 160925LM 161006LC kindaDS