Description
7" tall x 8-1/2" wide. 3" deep when closed (the large shadowbox is 1-1/2" deep, and the 2 smaller shadowboxes that form the "doors" are also 1-1/2" deep).
These Theatre Cabinets are similar to the smaller Apothecary Cabinets (with doors that can be paper hinged (or metal hinged) onto the main center section — and with space in the "doors" for scenes).
See the Large Theatre Curtains, Columns & Box Seats Set Download (linked below) for a set of 5 large curtains (and other pieces), sized for this cabinet.
Design Team Member Tristan Robin Blakeman made a Beauty and the Beast Theatre (see the wide photo below). More info in the blog and/or see the Supply List.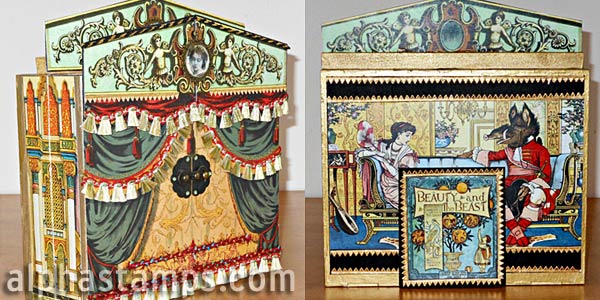 180208TB gryGD GND 200514LC