Description
5/8" wide and a bit over 1/2" tall including the loop. Flat on the back (not 3D... actually hollow, not solid).
Sold individually.
This charm is also included in the Twilight Kit; see all the other kit components available to buy separately.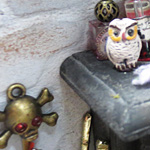 Witch's Cottage by Shannon Cooper; See the Supply List.
More info is in the blog.
crossbones bones 150725swc 150830DLO 150920LBC 160529TC 160724TC 160908NB 190804KB 190929Twltkit