Description
The exclusive 4x4 Die-Cut Chipboard Frame Sets were designed for cards with images that show through (or peek out from around the edges of) the peep hole on the front of the card.
I've included the circle cut out from the front cover (which can become a template — or hinge it for a round door that opens, like on Laura Carson's Tea Time card shown above (with a clever double door: the round door and the square cover both open); other supplies in Laura's artwork.
2 Sets (2 solid backs; 2 die-cut fronts and 2 circle templates).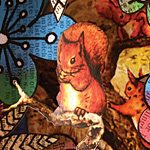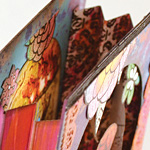 Tunnel Book by Design Team Member Kira Nichols; other components in the artwork.
Learn more about this artwork in the blog.
130602rf1 130602rf2 130602lc1 130602lc2 130602kbc 130602kbb 130602lqp 130602nb 130602kn 130602coh permsale 130602coht 130602st2 130602st1 130609tc 130613kn1 130613kn2 130613kn3 130613lc 130620kb 130711lwb 130711lsw 130711lbb 130727ttr window 150531SSM