Description
Nicely done! From the cute bow on her back to the "Drink Me" bottle she's holding.
Approx. 1-1/4" tall including the loop.
Sold individually.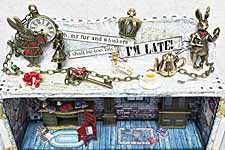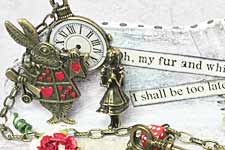 The White Rabbit's Hutch by Teri Calia. See the Supply List.
For more information see the blog.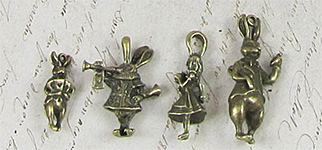 The line-up! I thought it would be useful to see the relative sizes of these 3D Alice in Wonderland charms. From left to right: Bronze 3D Rabbit with Cards, Bronze 3D Alice in Wonderland Herald Rabbit, 3D Bronze Alice in Wonderland Charm, Antique Bronze 3D Rabbit Charm.
150820WRH 160522CH