Description
Empty 2" bottles (with cork). Note: new source... truly 2" tall (without the cork).
See the additional photo for a size comparison of this bottle to similar small bottles we carry.
Sold individually.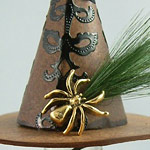 Artwork by Design Team Member Laura Carson (also used in her Pretty Potions and Poisons Apothecary Event).
2 Inch Glass Bottles 141019lapb 150827PTB 160110NTW