Description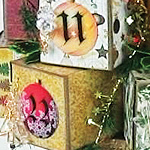 Shown as part of the Christmas Tree Advent Calendar Tutorial by Laura Carson (see the supply list).
Such a cute, simple box, but I can imagine so many uses: from a tiny jack-in-the-box to a gift packaging (or stack them as alphabet blocks).
Note: these are kraft color, but are heavier than kraft paper (more like a lightweight chipboard).
Set of 3.
Design Team Member Rhonda Thomas made A Treat To Make, And A Place For Treats (see the wide photo below). More info in the blog and/or see the supply list.
191031new 191107RT 131114lcc 191103KB 131114LCAGA square chipboard 191202NB