Description
Flat rectangle with ground edges. 0.9 mm thick.
Some collage sheets with images designed to fit these slides are linked below.
Psst... these are the same size as the Full Size Dominoes.
Set of 20.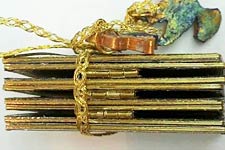 Tiny Accordion Fold Book by Laura Carson; See the Supply List.
More info in the blog.
1x2 Inch Rectangular Slide Glass 150125AFG 150125LGB 150815LCO 150920LBC glslds 151203TNT